FREQUENTLY ASKED QUESTIONS
What is a skin tag?
---
A skin tag, or acrochordon, is a small piece of skin often chracterised by hanigng off the body with a fleshy stalk. Generally, areas of the body that receive a lot of friction develop skin tags, most often appearing in the underarm, neck, and groin areas. Fortunately, skin tags are benign so there are no medical concerns associated with it. However, these tags can be annoying and can also cause a concern on the physical appearance, which is why most people prefer to have them removed. One of the biggest problems with skin tags is that they can bleed if snagged, which may cause pain because they have their own blood supply.
---
Where can I buy TagBand?
---
You can purchase TagBand directly from our website Shop. or you can find us on eBay and Amazon. All orders received before 4.30pm will be sent out the same working day with weekend orders sent out on Monday. All UK orders are sent by Royal mail first class delivery and 90% of all orders arrive the next working day! All TagBand kits fit through a standard letter box so you do not need to be at home to receive your order.
---
What is the difference between TagBand and Tagband Auto?
---
Both kits use the exact same method of removal, the only difference is the application. TagBand Auto can be used with one hand and has been designed to remove skin tags in hard-to-reach areas. Our most cost-effective device is TagBand, which requires two-handed application.
---
Can I use TagBand on moles, warts, or any other skin condition?
---
TagBand should only be used to treat skin tags. If you are unsure about whether you have a mole, skin tag, or wart, please consult your doctor or dermatologist for a professional diagnosis, particularly if you wish to remove them.
---
How does the 60-day money back gurantee work?
---
We're sure you'll love our products. However, if you find that your TagBand skin tag removal kit does not work for you, please email us so we can provide you with all the details needed to return your order.
---
What size TagBand do I need?
---
Micro TagBand Skin Tag Removal kit is suitable for skin tags with a measurement of 2mm-4mm at their widest point. The TagBand skin tag removal kit is suitable for skin tags with a widest point of 4mm-6mm.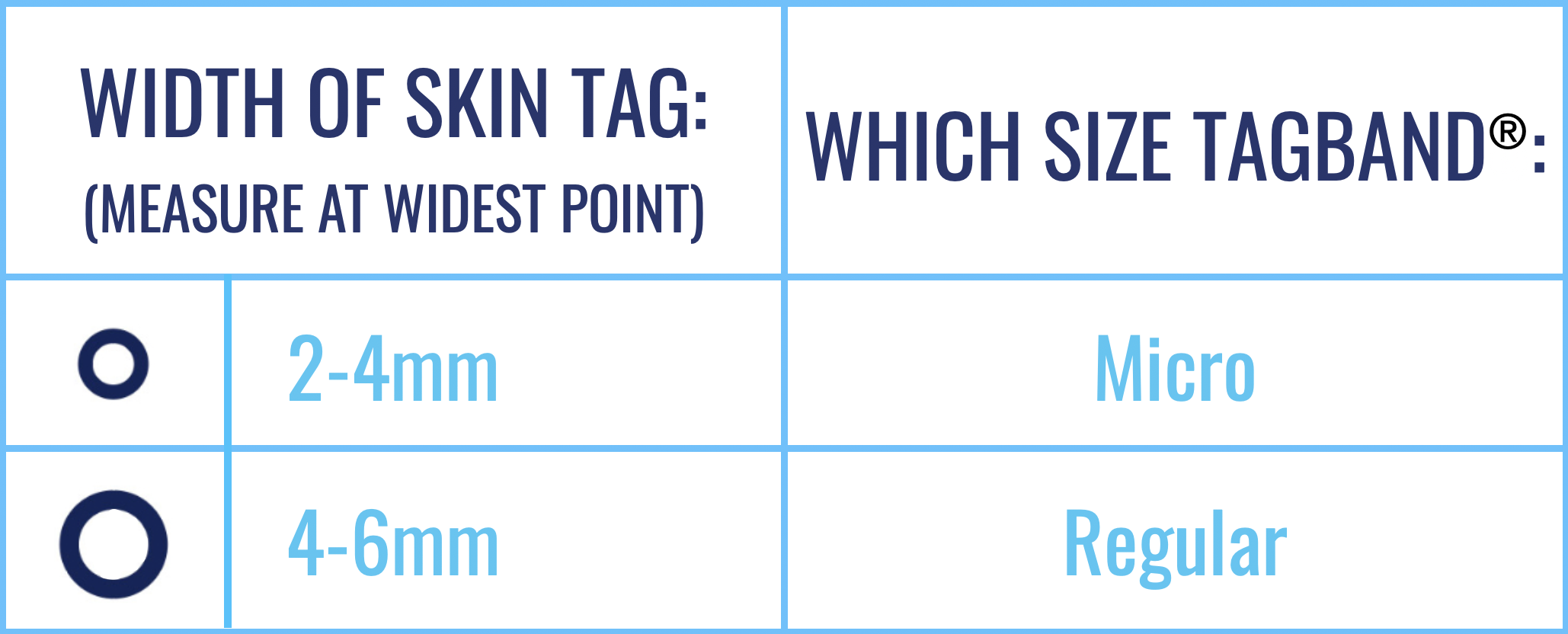 We reccomend measuring your skin tag to ensure you purchase the correct size TagBand. If you are unsure of the size of your skin tag, we usually reccommend purchasing the Micro size, as Regular is suited for those larger skin tags.
---
---